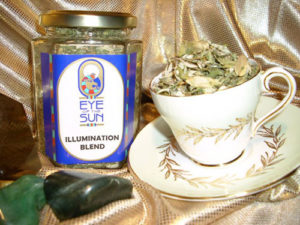 At Eye of the Sun we love tea parties – any excuse for a celebration of the senses!  Why not get a group of special friends together to share in the joy of life?  You might want to pick one tea blend to feature and enjoy or make up a number of blends and do a tea tasting (kind of like a wine tasting – an intoxicating experience without the need for alcohol!)  Work with the messages and energy of the blends – perhaps use this to start a group discussion.  Trust the process and see where it leads you!  We have had some incredible experiences around the sharing of a blend in this way.  To enhance the experience even further, you might want to match the blend with savouries, cakes, cookies, muffins or scones that compliment the flavours.  We love creating and experimenting with recipes that utilize the tea blends in all different forms – grind them down and add them like a spice or make them up as a strong liquor and replace liquids such as water in recipes.  Show your friends you care by making the effort to create a unique and magical experience for them.  We would love to hear about your experiences too – drop us a line!
Formula for a Great Tea Party
Theme – Choose a Blend to set the mood and create a starting point for the gathering
Environment – Choose Your location – Inside, outside, a special space?
Atmosphere & Accessories – Make it a feast for the senses – get out the best china, use that special table cloth, find a great teapot
Provide delicious treats that fit with your theme – Maybe even bake some of your chosen tea blend into them
Appreciate your guests – Make them feel welcome and have everything organized so you can share the experience with them
Rapport – Allow the ebb and flow of the discussion deepen your understanding of each other and support everyone in making a contribution – have fun!
Transcend & Transform – Have you gained a new perspective on something or someone?  How are you difference for the experience?
Yes, let's do it again! – There can never be too many good times